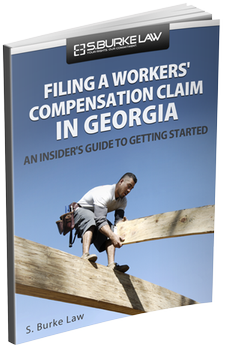 From Georgia Work Compensation Attorney, Sheryl Burke

If you were seriously hurt in a workplace accident in Atlanta, you are probably already receiving some guidance from your employer and their insurance company. But knowing that their main concern is protecting their organization and maintaining profits, you realize you need to be armed with information to ensure you are doing everything you can to receive the maximum benefits for your injuries.

Not only are you dealing with your injury and loss of wages; but you are also thrown into mountain of paperwork and an unfamiliar process, not to mention a whole new set of players. You likely have many questions about the best way to file your claim, what benefits and compensation you are eligible for, and how to best avoid making any costly mistakes.

Georgia Work Compensation attorney, Sheryl Burke, knows that that education is your best defense. This is why she wrote this GA workers compensation guide - to increase your knowledge and empower you to make the best decisions for YOU.

Our GA workers compensation guide has a myriad of insider information, some of which the insurance company wished you never got your hands on. Filing a GA workers compensation claim might seem overwhelming, but it doesn't have to be.

With this GA workers compensation guide you will be able to:
Determine the benefits you could be eligible to receive right now;
Gather important information that will help your case;
Understand who is eligible for GA workers compensation; and who can be denied; and
Learn how to get top dollar for your losses.
Get informed and make educated decisions after your workplace accident in Atlanta with the help of insurance insider and Georgia Work Compensation attorney, Sheryl Burke.

Simply complete the short form below to download your FREE GA workers compensation guide today.