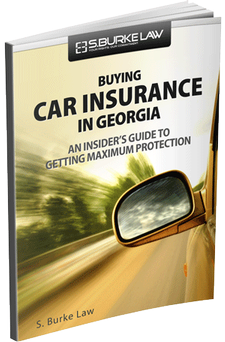 Before a Serious Atlanta Accident - Order This FREE Insider's Guide!
Without adequate insurance protection, a serious accident could leave you financially devastated.

Many accident victims turn to the Law Offices of Sheryl L. Burke for guidance and advice after becoming a victim of a serious Atlanta accident. They want to make sure they are getting the maximum benefits from their insurance company to help cover their medical expenses and property damages. Unfortunately, there are times when an individual did not have adequate coverage or was not in compliance with Georgia auto insurance laws.

The staff at the Law Offices of Sheryl L. Burke wants to help you in advance, so that you are well prepared should such an unfortunate event happen to you. This is why we have written a guide on buying car insurance in Georgia, An Insider's Guide to Getting Maximum Protection at Minimal Cost.

You might be asking: why would an attorney be an authority on buying car insurance? As a former insurance adjuster and presently a personal injury lawyer, Sheryl Burke knows how insurance companies work from the inside out.

The information contained in this guide is meant to give you the best possible understanding of how your car insurance policy limits can affect you after a serious Atlanta accident.
This book will answer the following questions and many more:
Am I paying too much or do I have enough coverage?
What should I expect from my insurance after an Atlanta accident?
Am I compliant with Georgia auto insurance laws?
What is Supplemental Insurance?

Don't be frustrated by legal and insurance jargon used in your policy. Understand what insurance terms like "full coverage" really mean. Know what to expect from your insurance company if you are involved in an Atlanta accident.

Complete the short form below to receive your complimentary Atlanta accident guide now: